The Mall at Tuttle Crossing is an enclosed mall located in Dublin, Ohio. It was developed by a joint venture of Taubman Centers and The Georgetown Company and opened on July 24, 1997. Current anchors are JCPenney, Macy's, and Scene75, with Sears being vacant.
History
[
]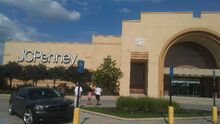 The Mall at Tuttle Crossing opened on July 24, 1997 with great fanfare. Sears, Lazarus, Marshall Field's, and JCPenney also opened as anchor stores. Apart from tenants, which at opening had 128, Tuttle Crossing also had a unique play area with oversized breakfast food, that would later be remodeled into a space-themed area. In May 2017, the play area was completely redesigned with more interactive elements, going for a "STEM" theme.
Another attraction the mall had was a kugel ball, connected to a water fountain where coins were tossed in. This has since been removed due to it being hard to maintain.
In August 2006, Lazarus was turned into Macy's, and the original Marshall Field's became Kaufmann's in February 2003. In 2006, due to the Federated-May merger, the Kaufmann's store was renamed Macy's at Hayden Run. As of October 2006 there were two Macy's located at the mall, Macy's at Tuttle Crossing (the original Lazarus store) and Macy's at Hayden Run (the former Marshall Field's/Kaufmann's) until March 2017. On January 4, 2017, Macy's announced it would be closing the Macy's at Hayden Run sometime during the same year. In early summer 2018, Scene75 Entertainment announced they would open a location in the former Marshall Field's/Kaufmann's/Macy's at Hayden Run. The location opened in October 2019.
In 2017, Forever 21 had an expansion that nearly doubled the size of the existing store on the second level of the mall, from 6,758 square feet to 11,258 square feet.
On December 28, 2018, it was announced that Sears would also be closing as part of a plan to close 80 stores nationwide. The store closed on March 18, 2019. On the same note, a Sears Auto Center just west of the mall was closed a few years prior and is now a strip mall. Also around the same time as Sears' closure announcement, Starbucks also announced a store closure at the mall. That store closed sometime in January 2019.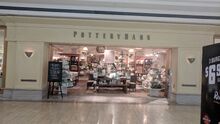 Description and Location
[
]
The mall itself anchors an economically strong and growing area of office complexes, restaurants, apartments and condominiums surrounding the interchange of I-270 and Tuttle Crossing Boulevard. The area is a good example of the suburban phenomenon known as an edge city.
Anchors
[
]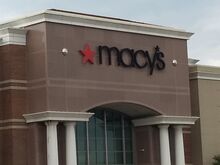 Current
[
]
Former
[
]
Macy's Hayden Run (opened as Marshall Field's in 1997, became Kaufmann's in 2003, then became Macy's Hayden Run in 2006, closed in 2017, became Scene75 in 2019) 
Sears (opened in 1997, closed 2019)
Tenants
[
]
Current (as of March 2022)
[
]
Aeropostale
All Star Elite
American Eagle
Auntie Anne's
AVRS Furniture (local)
B.R. Gifts (local)
Bath & Body Works
BJ's Brewhouse (outside of mall, though the building is on the site)
Bleu' Luxury Artistry Lab (local)
Body Jewel
Browbar
Bubbles Tea Company
The Buckeye Room
Buckle
Build a Bear Workshop
Cellaxs
Champs
Charley's Cheesesteaks (food court)
Chick-fil-A (food court)
Cinnabon
Claire's
CMF Clothing (local)
Cozy Feet Spa (local)
Custom World (local)
Devyani's Beauty Salon (local)
Diamonds Forever
Dippin' Dots
Dress & Party (local)
Dry Goods
Duck Donuts
FYE
Farah Jewelers
Fashion 5
Finish Line
Foot Locker
Forever 21
Great American Cookies (food court)
Grown Woman's Closet (local)
H&M
Halal Chinese Bistro (food court/local)
Helzberg Diamonds
Hollister
Hot Topic
House of Hoops by Foot Locker
Icing (local)
La Pizza Italian Kitchen (food court/local)
Journeyz
Kay Jewelers
Kids Foot Locker
La Paris Marie Boutique (local)
LensCrafters
Level 1 Games (local)
The Hat Zone/Lids
Love Letter Boutique (local)
Mon Senteur (local)
Nail Experts (local)
Nori Japan (food court)
Oriental Wellness
PacSun
Pandora
Pearle Vision
Personalized Apparel (local)
Premier 7
Red Robin (front mall exit) (opened November 1, 2015)
Relax the Back
Roll-n-Go
Rue21
Sephora
Shoe Dept. Encore
Solestop
Spencer's
Sports Possessions (local)
Starstrukt (local)
Stir Fry 88 (food court)
Sunglass Hut
Sushiyo (food court)
Tai Ji Massage (local)
T.C. Mini Mart (local)
The Amazing Space (local)
The Cartierre Collection (local)
The Children's Place
The Window Guy & Co.
Vans
Wash
Where I'm From
Windsor
Zalez
Zumiez
Former tenants
[
]
A.J. Cheers!/Gags & Games
AT&T Mobility
Abercrombie & Fitch
Activate Cellular
Aerial Communications
Aldo
Andrews Jewelers
Ann Taylor
Aveda Environmental
A&W (food court)
Bachrach
Bailey Banks & Biddle
Banana Republic
Basics One
Bath & Body Works at Home
Best Buy Mobile
Big Easy Cajun (food court)
Blue Chip Cookies (food court)
Brookstone
Buybacks Entertainment (food court/mall exit)
Cache (local)
Cacique (local)
Cafe Molly (local)
Candleman (local)
Canyon Cafe (food court/back mall exit, opened January 19, 1998 and closed the same year)
Caribou Coffee
Carlton Cards
Carlucci Restaurant (food court)
Charlotte Russe
Cheryl & Co.
Cheesy Bite (food court)
Christian St. John
Christopher and Banks
Circuit City Express
Colorado Pen Co.
Contempo Casuals
Copper Creek Grill (front mall exit)
Crabtree & Evelyn
Crystal Classics
DOC Eyeworld
Discovery Channel Store
Desmond's Tuxedos
DentalWorks
Dreamland (food court/back mall exit)
Easy Spirit
Eddie Bauer (2 stories, closed 2003)
Enzo Angiolini
Everything But Water
Express
Evropi (food court)
Eyebrowz
Fashion City
Figleaf Shop
Flaming Wok (food court)
Fossil
FS Blue Line
Fox Photo Kodak
Francesca's Collections
Fuzziwig's Candy Factory
Gadzooks
GameStop
GapKids/BabyGap
Glitter
GNC
Gloria Jean's Gourmet Coffees
Go! Games & Calendars
Godiva Chocolatier
Gold Buyers of America
Golf America
Gymboree
Hallmark Gold Crown Store
Harold's
Hot Dog on a Stick (food court)
Huntington National Bank
Hush Puppies
Ja'Lae's Jungle Gym
Java Masters
Jessica McClintock
Johnston & Murphy
Karl Bissinger French Confections
Kirkland's
KissiCakes-n-Sweets (food court)
Lane Bryant
Laura Ashley
Learningsmith
Lerner New York
Lifestyle Store
Limited Too/Justice
Mario Tricoci Hair Salons and Day Spas
Mason's Bath Boutique
MasterCuts
Maternite
Miracle Eyebrows & Henna Tattoos
Merksamer Jewelers
Modern Nails
Moochie & Co.
Mr. Bulky Treats & Gifts
Natural Wonders
Naturalizer
Nine West
NordicTrack
Northern Sports
Overland Trading Co.
Orc's Forge Games (food court/back mall exit)
Oriental Wellness
Oh La La
Ocean Blue Jewelers
Papyrus
Panera Bread/St. Louis Bread Company (mall exit)
Petite Image
Perfumania
Pholicious Rice Noodle Soup (food court)
Pottery Barn
Record Town
Regis Hairstylists
Ruby Tuesday (mall exit)
Sbarro (food court)
Select Comfort
Sempliner's Tuxedo World
Shi
Siegel Jewelers
Silver Mountain
Simply Cigars
Simply Rr's
Simply Vague
Soupmaster's Cafe (food court)
Starbucks
Steak Escape (food court)
Stride Rite
Structure
Subway (food court)
Surf City Squeeze
Sydney's Restaurant (food court/back mall exit, probably opened in mid 1998?)
Talbot's
Teavana
T.G.I Friday's (food court)
The Baggerie
The Gap
The Great American Backrub Store
The Limited
The Men's Wearhouse (now located outside of mall)
The Right Start
The Speedo Authentic Fitness
The Walking Company
The Wooden Bird
Things Remembered
This End Up
Tinder Box
Trade Secret
Travel 2000 TravelGear
United Colors of Benetton
Vanity
Victoria's Secret
Visconti Shoe Salon
Waldenbooks
Walking Company
Warner Bros. Studio Store
Watch Station
Waves Music
Wet Seal
White House Black Market
World of Science
Yankee Candle Company
Yi's Relaxation Station
Zarrosta Grill
Trivia
[
]
The former Yankee Candle location was the first store in Ohio. There are now at least 15 locations in the state as of 2022.
The mall started its planning stages as early as 1993.
The former Learningsmith (which went defunct in 1999) store was the only location in Ohio.
Cinnabon was originally in the mall as an actual tenant space. It left the mall for a couple of years until it returned as a kiosk stand in late 2019.
Chick-Fil-A is the only "surviving" restaurant in the food court, being there since 1997.
The former Canyon Cafe restaurant might've been the earliest known closure at the mall. Curiously, the brick structure entrance still stands from that space.
It's a possibility the "Copper Creek Grill" restaurant that sat in the Red Robin/Ruby Tuesday space was local, particularly due to the fact it shares the same name as Copper Creek Drive, a small neighborhood west of the mall.
Gallery
[
]
Videos
[
]
External Links
[
]