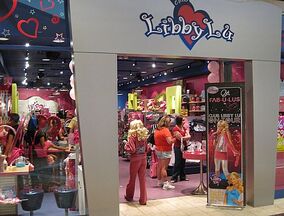 Club Libby Lu was an experiential/experience-based retailer for young girls ages 4 to 12.
Founded by Mary Drolet, a former executive at Claire's and Montgomery Ward, in August 2000, the store chain operated 98 stores in 28 states in the United States before closing in early 2009.
History
[
]
Club Libby Lu was a children's fashion retail chain that encouraged celebrating being a girly-girl. The popular store chain was created by Mary Drolet in August 2000.
At the front of every door was a "fairy" who would grant the wishes of people of all ages, beginning by sprinkling fairy dust onto guests as they walked into the store. Guests would sit in front of pink-colored, heart-shaped mirrors, dancing to pop music and 'transform' into rockstars, princesses, and their favorite celebrities.
A makeover cost between $25–$60, depending on the package of choice, and included a full hair updo, nail polish, and makeup.
In addition to playing dress-up for the day, Club Libby Lu VIP's (Very Important Princesses), were guided by their Club Counselors over to various stations including a "potion bar", where a VIP could make her own lotion, perfume, fairy dust, or lip gloss, and a Pooch Parlor, where the guests could own a stuffed animal of their choice.
At the end of every experience, each VIP was encouraged to join the free club and was given a friendship bracelet.
In early November 2008, parent company Saks Incorporated announced that, due to the economy, they would be closing all 98 locations.
External links
[
]